Bún Chả (Vietnamese Meatballs)
Written by Carmy Do
This light and fresh Bún Chả recipe features flavorful and juicy pork meatballs paired with vermicelli noodles and plenty of herbs and vegetables. Bún chả is light yet filling and it comes together effortlessly in a few straightforward steps. Served with a homemade dipping sauce, this refreshing recipe is perfect for a hot summer day or as a make-ahead meal.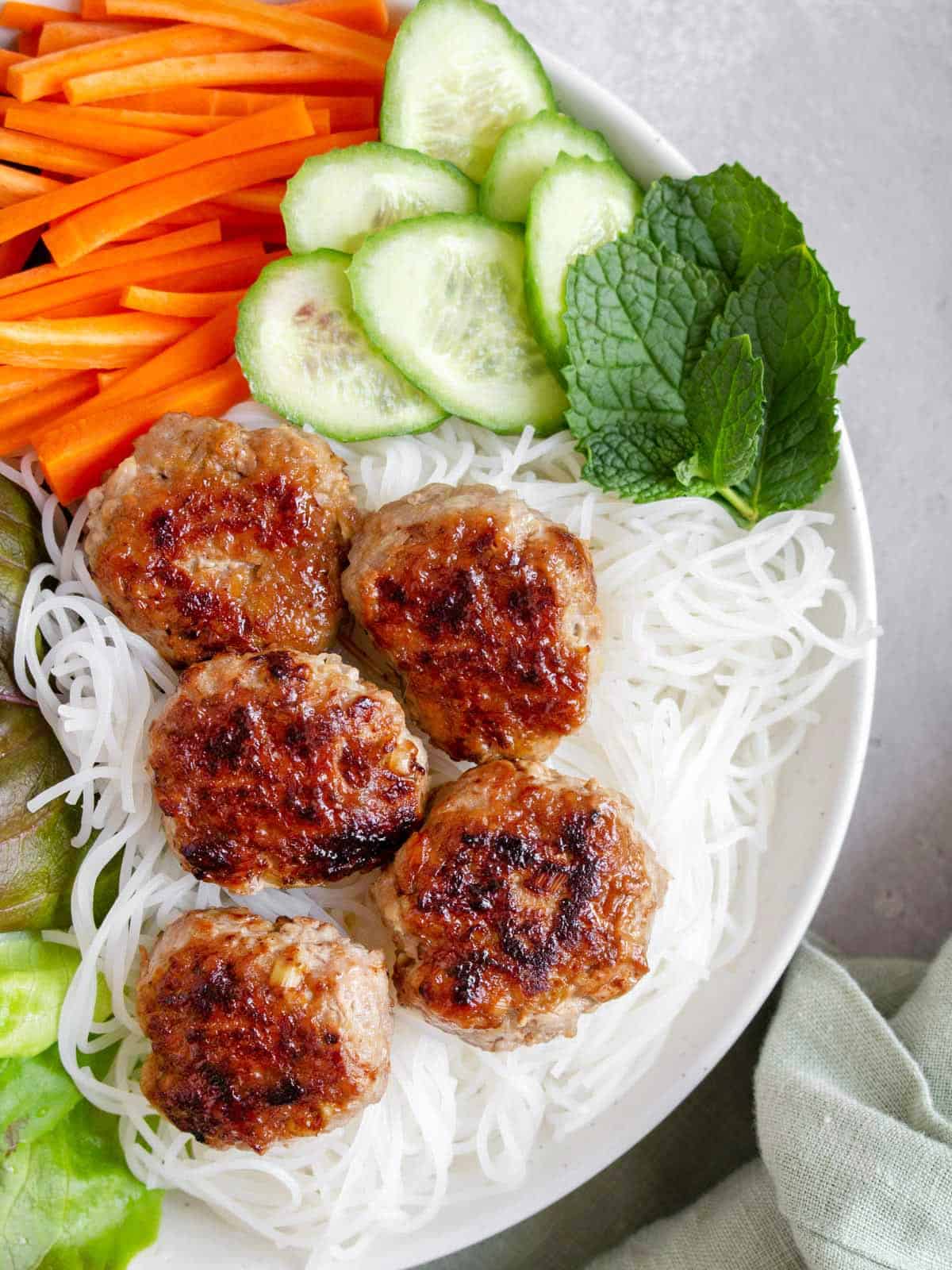 What is Bún Chả?
Growing up, I didn't realize there was a name for these delicious juicy pork meatballs. They were just something my mom made for me because it was one of the five things that I was willing to eat without question. It's a recipe that you can easily make, you can scale it up or down, and most importantly, it's super flavorful.
Bún chả, also known as Vietnamese pork meatballs with vermicelli noodles, is a popular Vietnamese dish that is thought to have originated in Hanoi. You can find them served anywhere from street food stalls to restaurants in Hanoi. While a popular lunchtime recipe, you can enjoy this recipe any time of the day. I love how refreshing the noodles, vegetables, and herbs are on a hot summer day. You can even find Anthony Bourdain and Barack Obama enjoying it on an episode of Parts Unknown!
What is fish sauce?
Fish sauce is the secret ingredient of this entire recipe. It goes into the meatballs as well as the dipping sauce (nước chấm) and is an absolute umami bomb. It is a liquid condiment that is made from fermenting fish over time. It adds major savory, salty, and general deliciousness to the overall dish. You can find fish sauce in the international aisle in most grocery stores, or at an Asian grocer.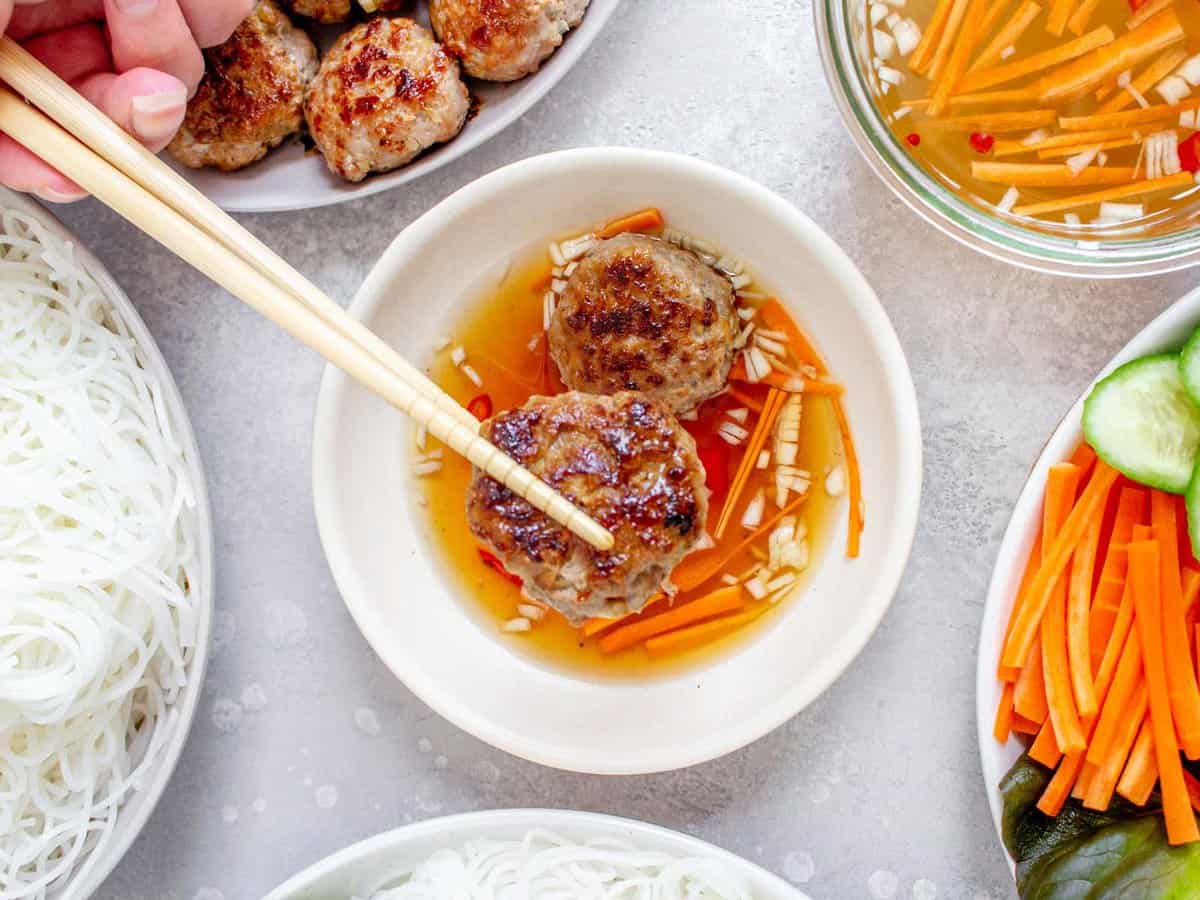 What is lemongrass?
Lemongrass is an aromatic herb that has a fragrant complex flavor that is bright and citrusy. You can purchase lemongrass fresh or frozen. I usually find frozen lemongrass at Asian grocers and like to stock up my freezer with them. If you can't find lemongrass, lemon zest and some ginger could work in a pinch, but I highly recommend not substituting the lemongrass because it is key to achieving the authentic Vietnamese flavor profile.
When using fresh lemongrass, keep in mind that the bottom woody section should be discarded. I've been noticing more chain grocery stores carrying fresh lemongrass so you should be able to find it relatively easily. If not, check where the ginger paste is kept and you might find lemongrass paste instead for an easy swap!
How to store leftovers
This recipe is perfect for meal prepping! Store the rice noodles, veggies, and herbs in one container and the pork meatballs in another container. This makes reheating the meatballs much easier, especially at work. Everything should keep and stay fresh for up to 4 days when stored in an airtight container in the fridge.
Tips for Making Bún Chả
Do not overpack the meatballs while shaping the meatballs as you do not want them to be dense.
For uniformed meatballs, use a cookie scoop. This helps them cook evenly as well. You do not want to go any larger than around a golf ball's size.
For the nước chấm, feel free to adjust the ingredients to suit your tastes.
While I use a non-stick skillet, you can use a grilling pan or cast-iron skillet as well.
When buying rice vermicelli noodles, make sure to double-check the ingredients. At first glance, they look similar to cellophane noodles but they are not the same.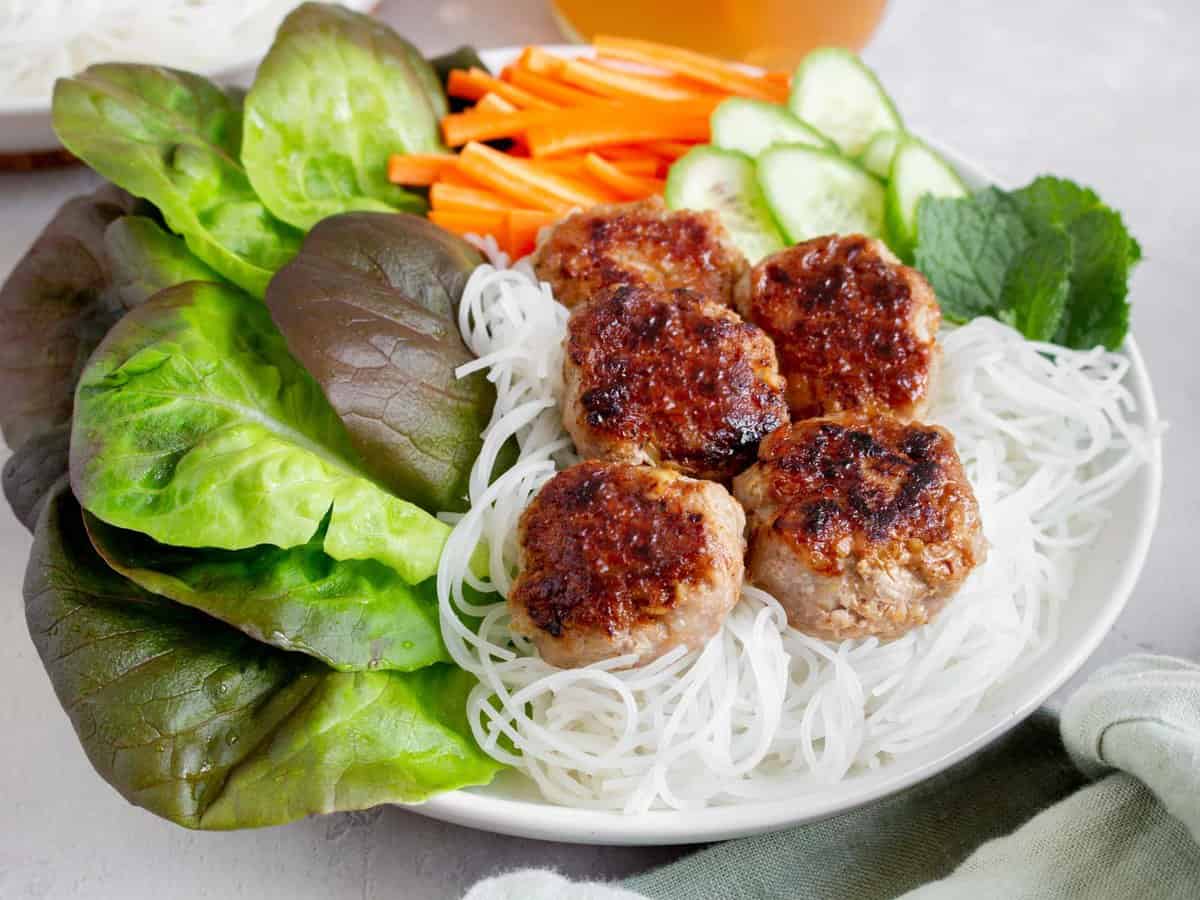 Bún chả
Bún chả (Vietnamese Meatballs) are simple, light, fresh, and perfect for a hot summer day or as a make-ahead meal.
Servings: 4
Ingredients
Meatballs
1 lb. ground pork ($4.49)
3 cloves garlic, finely chopped ($0.24)
1/4 cup chopped shallot ($0.68)
4 Tbsp minced lemongrass ($0.60)
2 Tbsp honey ($0.24)
1 Tbsp fish sauce ($0.23)
1 tsp salt ($0.05)
1/4 tsp pepper ($0.02)
Dipping Sauce (​​Nuoc Cham)
1/4 cup lime juice (about 2 limes) ($1.20)
3/4 cup water ($0.00)
3 Tbsp fish sauce ($0.68)
1 Thai red chili pepper ($0.10)
1 clove garlic, minced ($0.08)
2 Tbsp sugar ($0.02)
1 carrot, thinly sliced ($0.16)
Bowls
8 oz. rice vermicelli noodles ($2.99)
1 head butter lettuce ($1.59)
1 handful fresh mint ($2.19)
1 carrot, sliced ($0.16)
1/2 cucumber, sliced ($0.50)
Instructions
For the Meatballs:
Chop the garlic and shallots, and mince the lemongrass.

In a large mixing bowl, mix together the pork, fish sauce, salt, pepper, honey, lemongrass, shallots, and garlic. Set the mixture aside for 1 to 2 hours in the fridge.

Shape the mixture into small meatballs (about 20 meatballs), and then gently flatten them a bit.

In a large skillet over medium heat, heat the oil and add the meatballs in a single layer. Cook the meatballs until they are golden and caramelized, around 2 to 3 minutes per side. Set the cooked meatballs aside.
For the Sauce:
Whisk the sauce ingredients together and adjust to your tastes. Optional: heat the water and whisk the sugar in to dissolve before adding the rest of the ingredients.
For the Bowls:
Prepare the vermicelli noodles according to package instructions (usually cook 2-3 minutes in a pot of boiling water).

Serve the noodles with the meatballs along with a handful of lettuce, mint, carrots, and cucumbers with the nuoc cham on the side.
Notes
Editor's note: The prices listed above are from U.S. chain grocery stores. If you have an Asian market in your area you'll be able to source ingredients like fish sauce, lemongrass, limes, Thai chilis, mint, and rice noodles for much cheaper and often with much higher quality.
See how we calculate recipe costs here.
---
Nutrition
Serving: 1 bowl ・ Calories: 469 kcal ・ Carbohydrates: 40 g ・ Protein: 22 g ・ Fat: 24 g ・ Sodium: 2098 mg ・ Fiber: 3 g
Nutritional values are estimates only. See our full nutrition disclaimer here.
---
The equipment section above contains affiliate links to products we use and love. As an Amazon Associate I earn from qualifying purchases.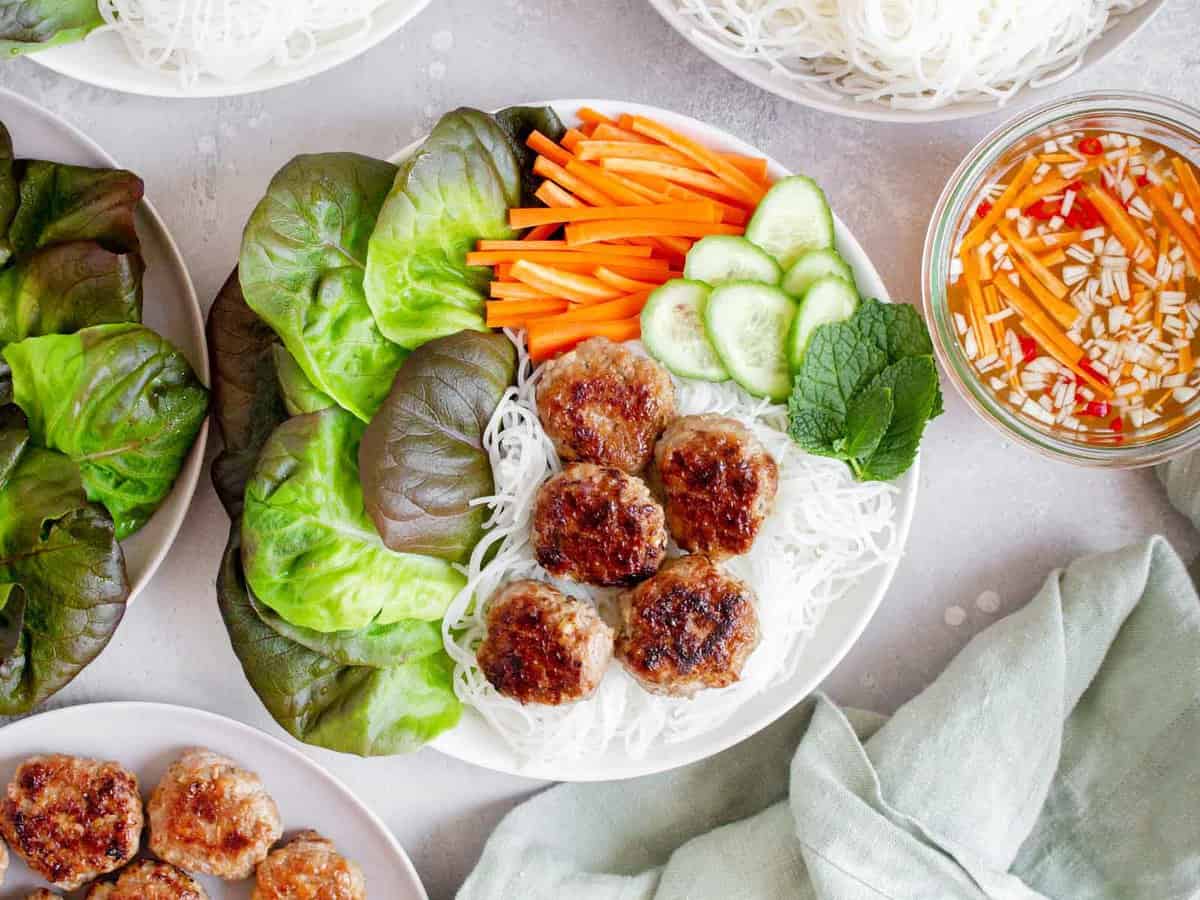 How to Make Bún chả – Step by Step Photos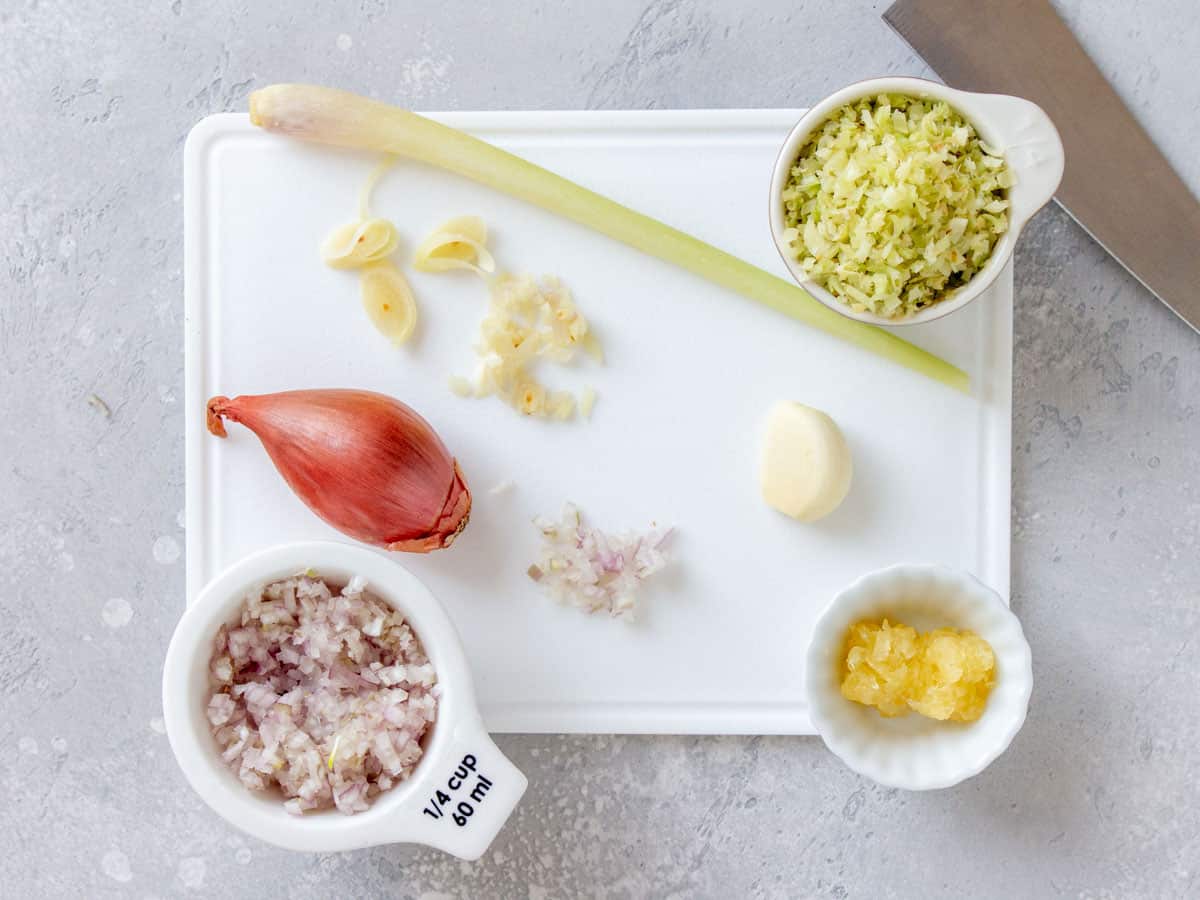 First, prepare the aromatics for the meatballs. Mince three cloves of garlic, ¼ cup shallots, and 4 tablespoons lemongrass.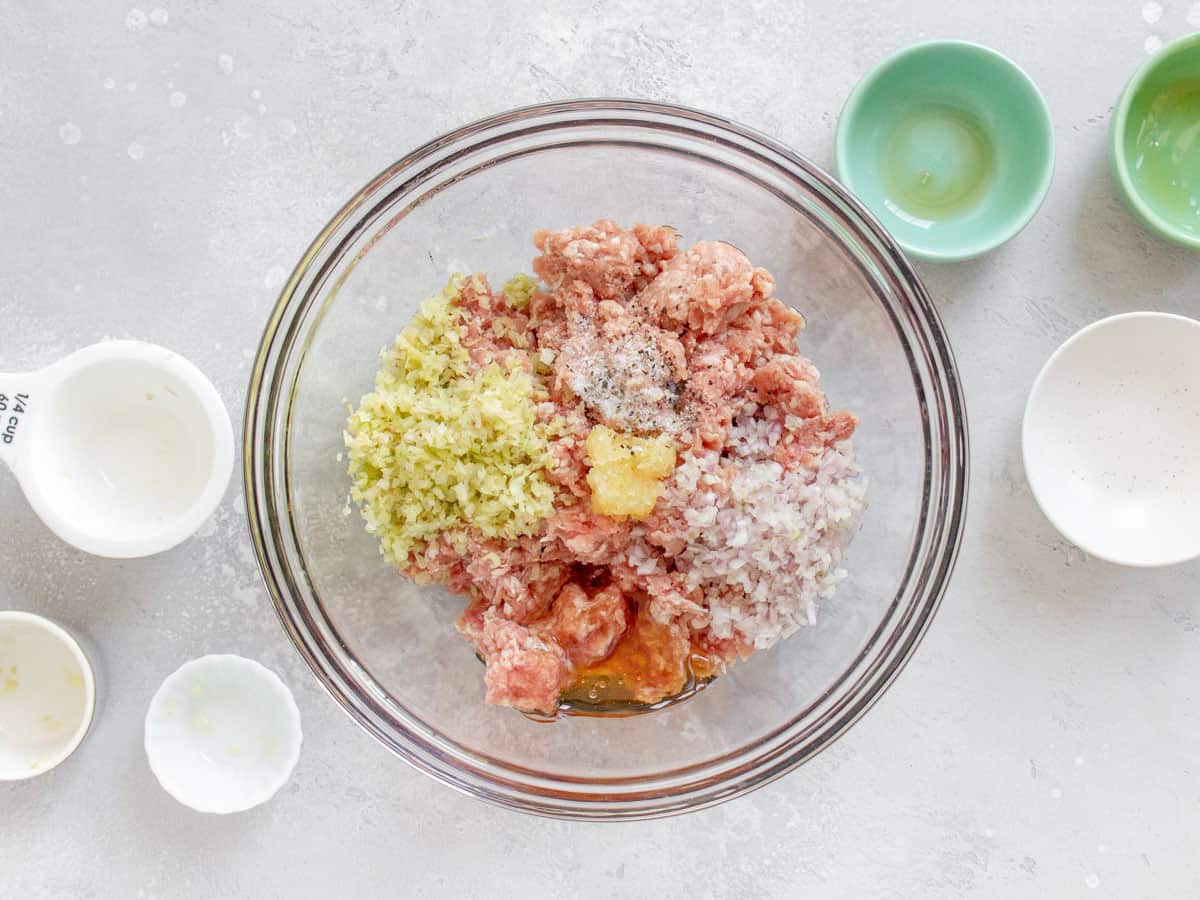 Add the garlic, shallots, and lemongrass to a bowl with about one pound of ground pork, 2 Tablespoons of honey, 1 Tablespoon fish sauce, 1 teaspoon salt, and ¼ teaspoon pepper. Mix the ingredients together then set the mixture aside for 1 to 2 hours in the fridge so the flavors can blend.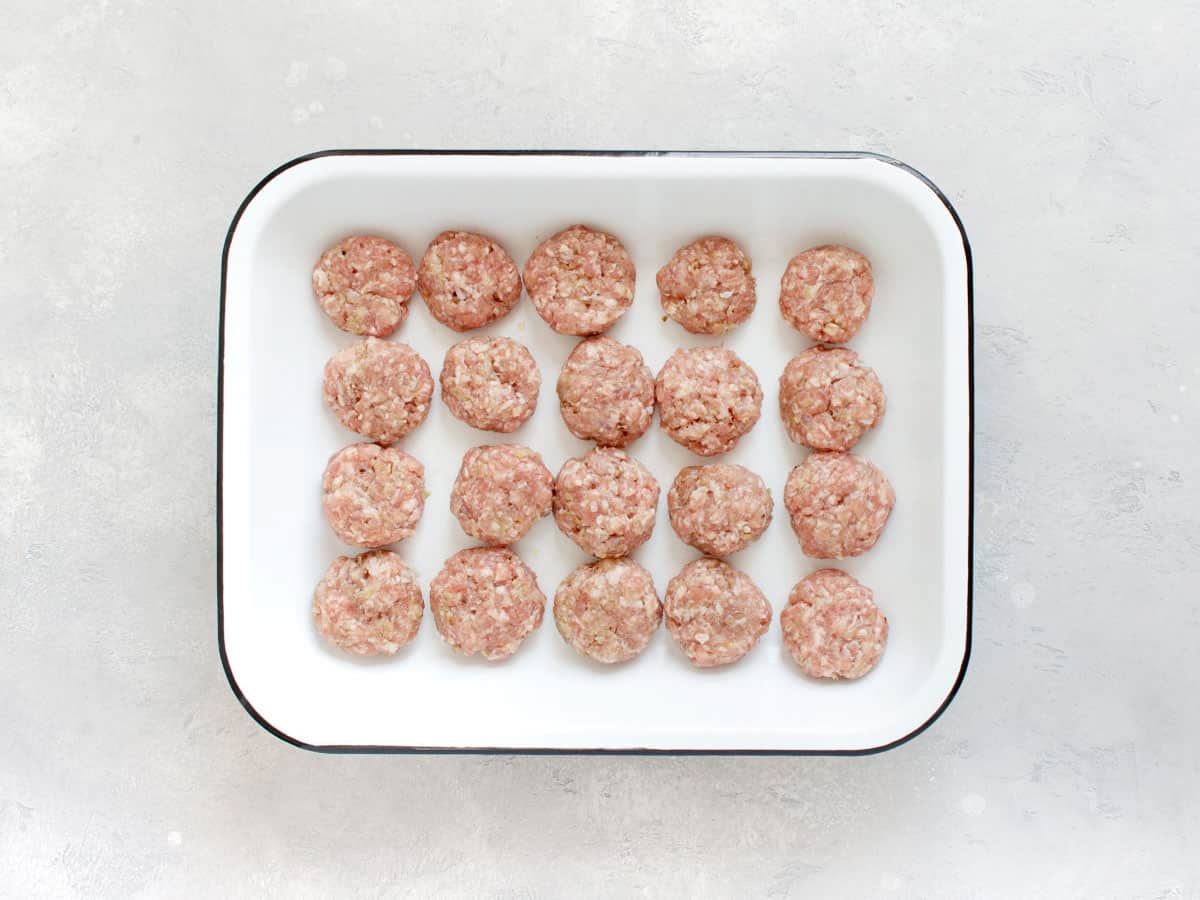 Shape the mixture into small meatballs, and then gently flatten them a bit. To help divide the mixture evenly, first, dive the meat into four equal pieces, then divide each quarter into five pieces to yield 20 meatballs.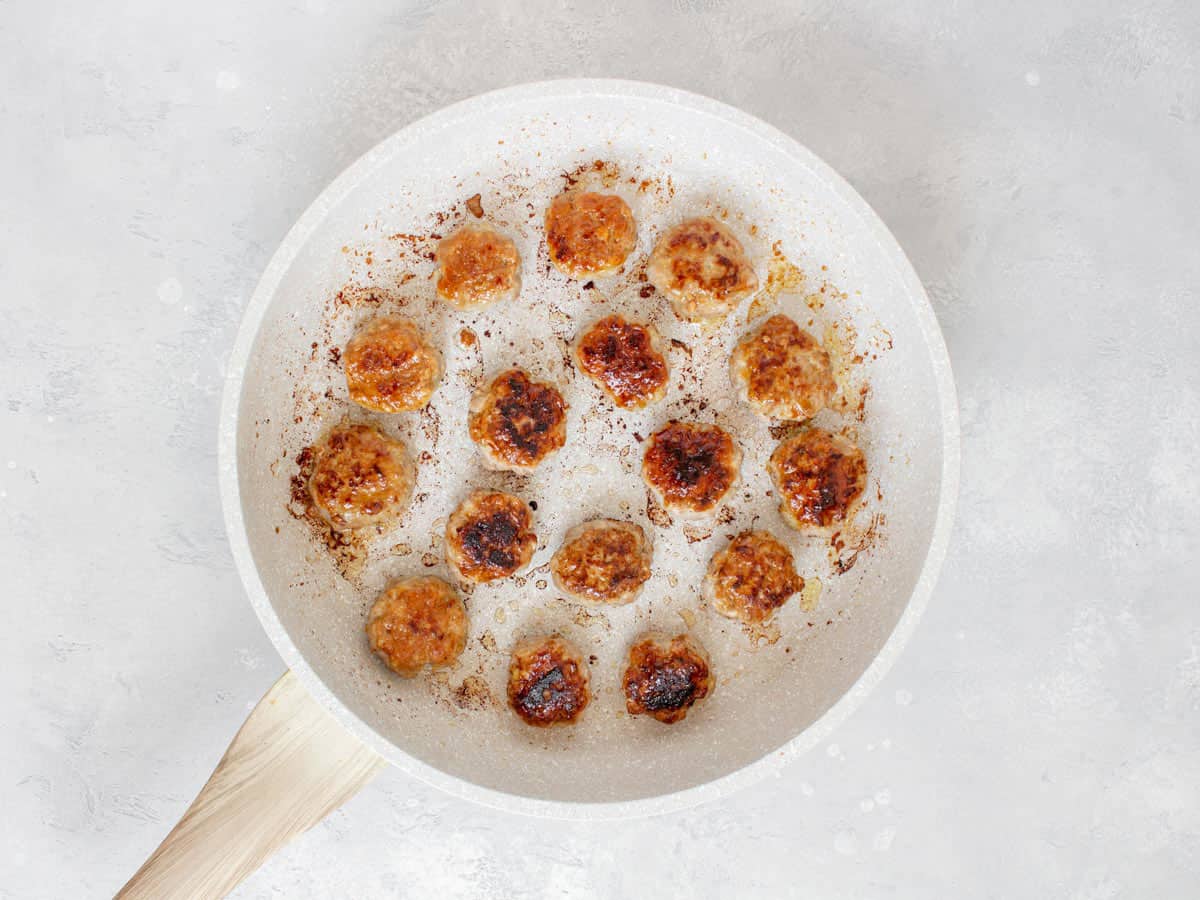 Heat a large skillet over medium. Once hot, add a tablespoon or two of cooking oil and swirl to coat. Add the meatballs to the hot skillet in a single layer. Cook the meatballs until they are golden and caramelized, around 2 to 3 minutes per side. Set the cooked meatballs aside.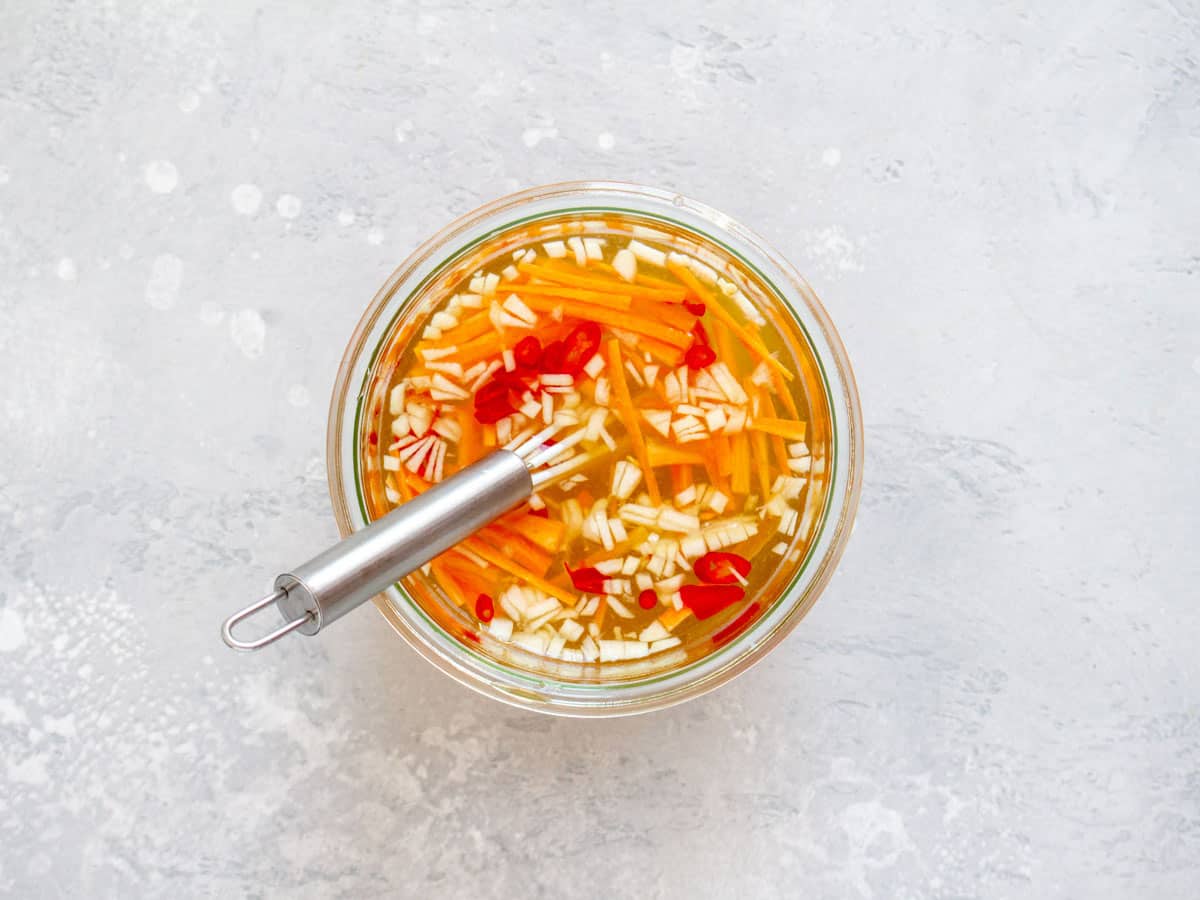 For the sauce, whisk together ¼ cup lime juice, ¾ cup water, 3 Tablespoons fish sauce, 1 minced clove of garlic, 1 finely chopped red chili, 2 Tablespoons of sugar, and some thinly sliced carrots (optional garnish). Taste the sauce and adjust the ingredients to your taste buds.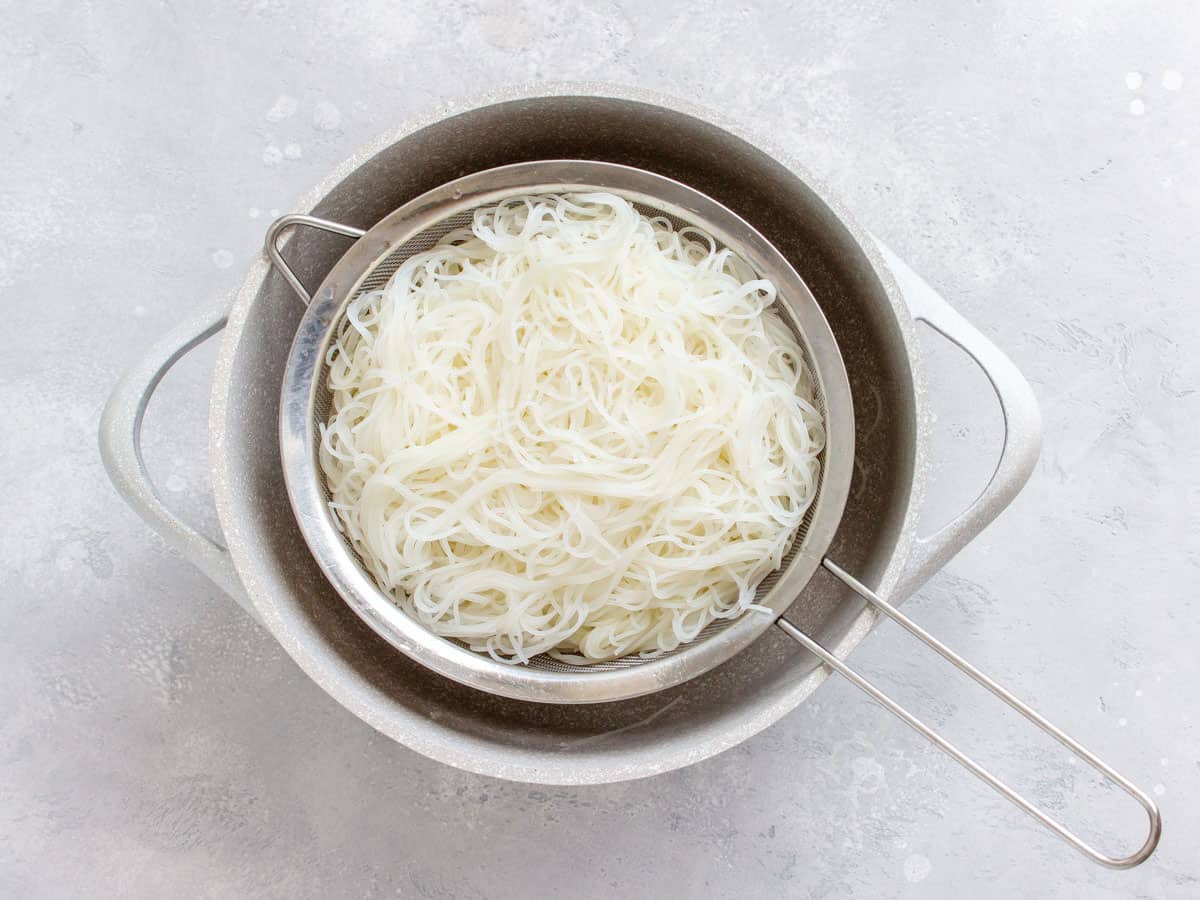 Prepare the vermicelli noodles according to package instructions (they usually require cooking for 2-3 minutes in a pot of boiling water). Drain the noodles and set them aside.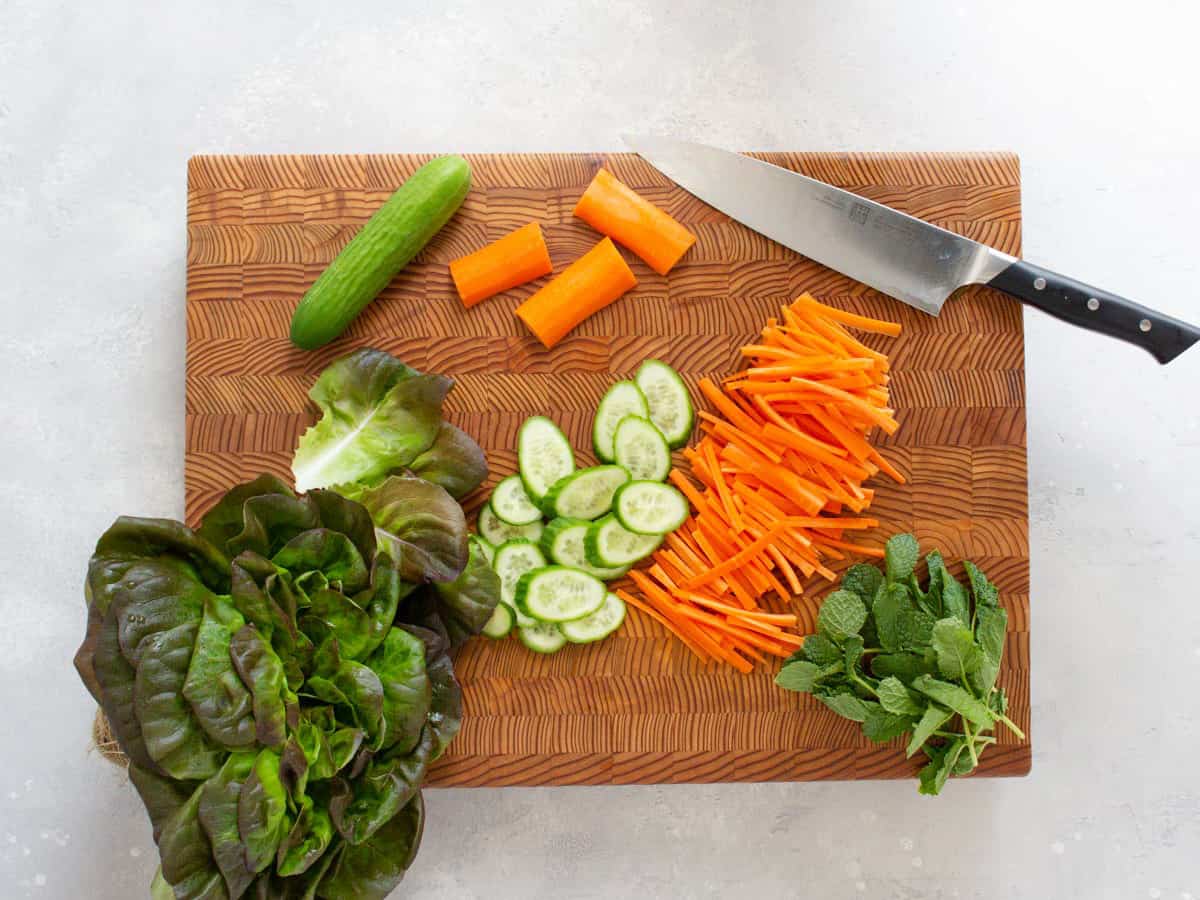 Prepare the rest of the vegetables for your bowls. Slice a cucumber, slice a carrot into matchsticks, pull a handful of mint leaves from the stems, and wash some tender lettuce.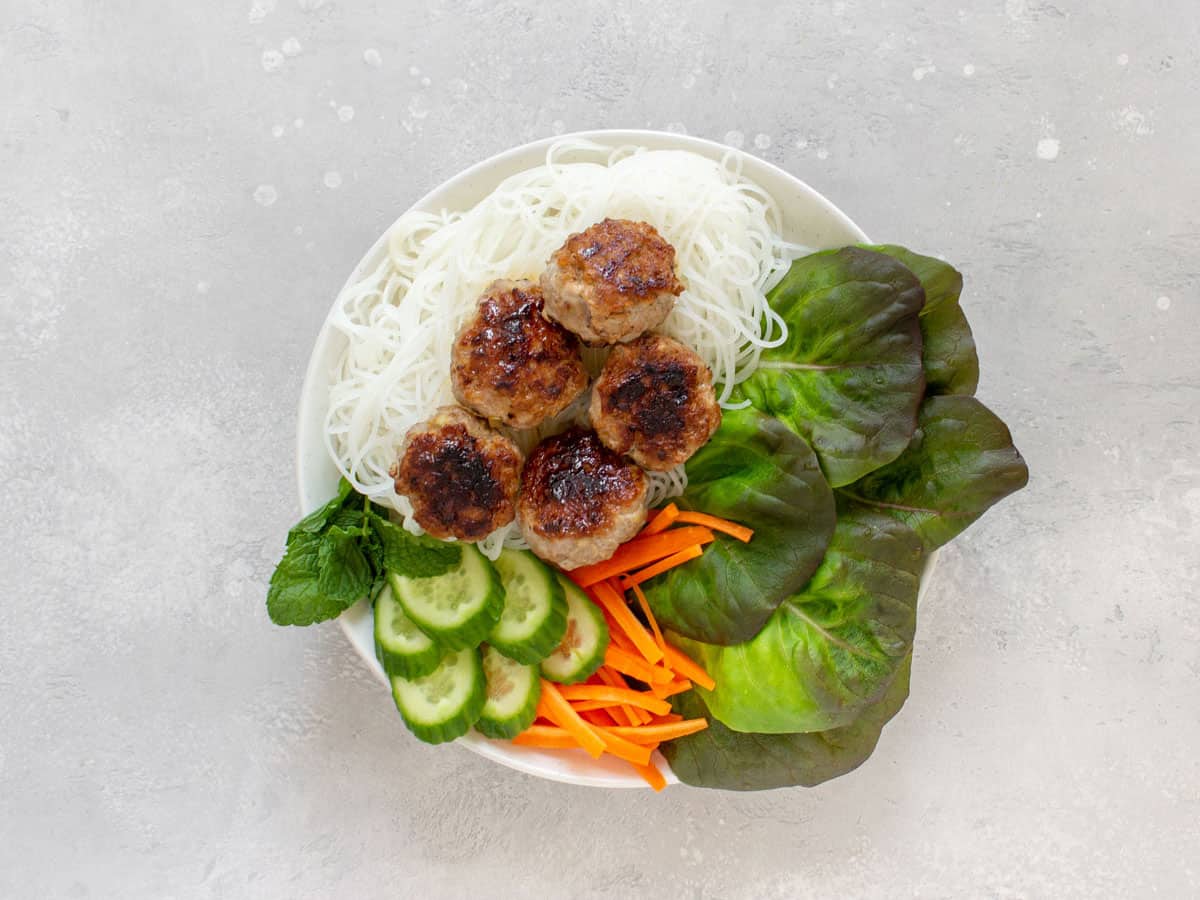 Build the Bún chả bowls by adding the rice vermicelli noodles to a bowl along with some lettuce, cucumber, carrot, and Bún chả. Dip the Bún chả into the sauce, or drizzle a little over the bowl.
SO fresh and so GOOD!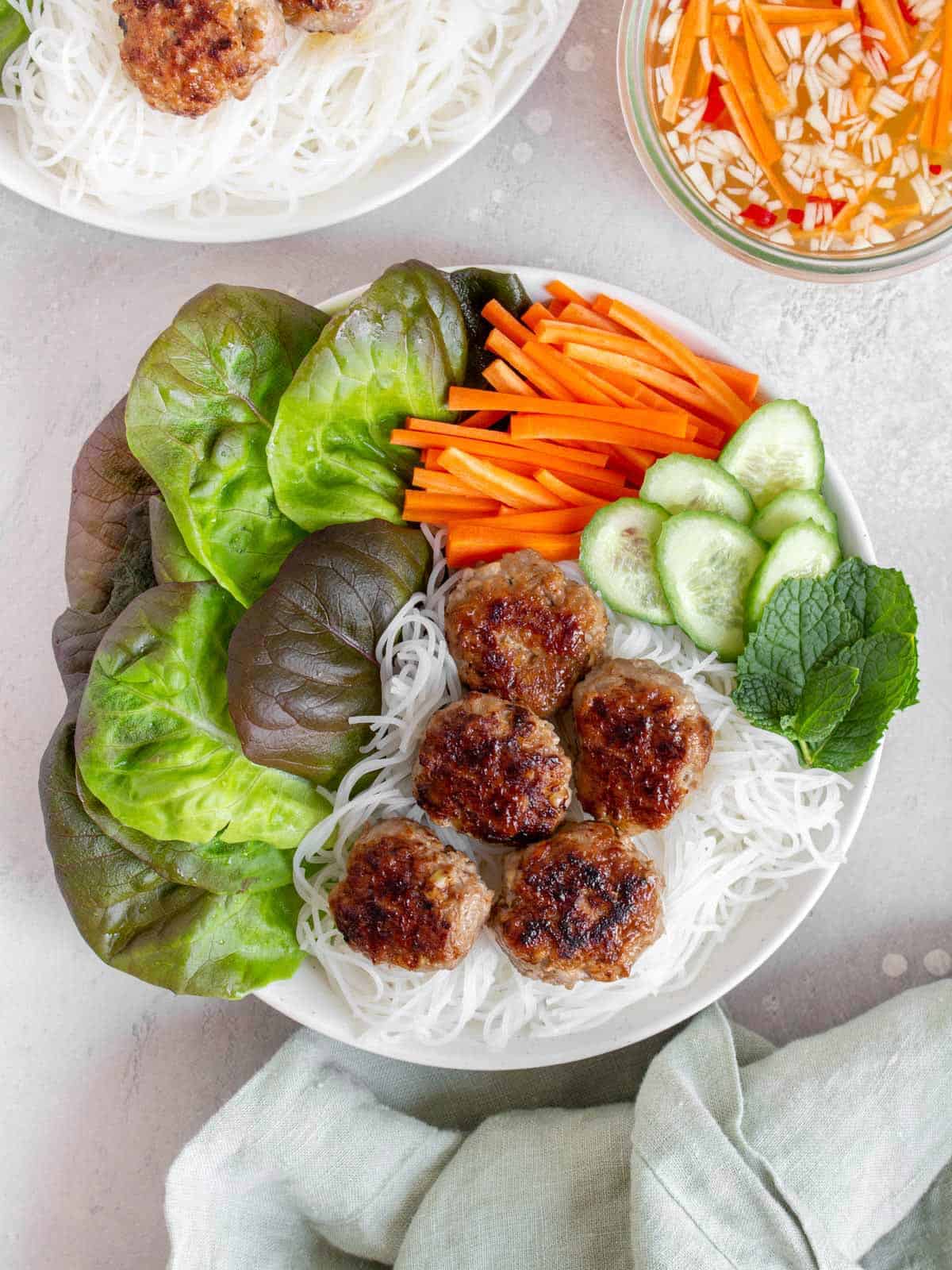 About the Author
Carmy is the blogger behind carmyy.com where she shares ​​easy healthy-ish recipes from meal preps to weeknight dinners. She also created onepotonly.com where she shares recipes that only require one pot so cleaning up is a breeze on busy weeknights. She loves experimenting in the kitchen, taking cooking classes, and traveling to eat all the food. Carmy's parents immigrated from Vietnam to Canada, where she was born and raised in the Chinese-Vietnamese community.