Budget Friendly Meal Plans + Shopping List & Recipes
BUDGET FRIENDLY MEAL PLANS
4 WEEKS OF DINNERS PLANNED FOR YOU
EACH BUDGET BYTES MEAL PLAN INCLUDES:
MENU PLANS

4 weeks of dinners planned for you, with each budget meal providing 4-6 servings. No more planning, just shop, cook, and eat!

GROCERY LISTS

Printable shopping lists to take to the grocery store or use with your favorite shopping app. Save time and money!
RECIPE E-BOOK

A downloadable PDF to access all the recipes in the plan. Make dinner with no ads and no internet connection required.

FREEZER GUIDE

A comprehensive guide to freezing leftovers of common ingredients to help you keep a well stocked kitchen and reduce your grocery budget.
EASY RECIPES THAT ANYONE CAN MASTER
AFFORDABLE AND EASY TO FIND INGREDIENTS
IMAGINE HOW YOU WOULD FEEL IF YOU COULD...
✓ Have an entire week of dinner's planned in advance and make just one shopping trip per week.
✓ Buy the exact ingredients needed so you can save more on your grocery bill and have less waste.
✓ Get out of your "recipe rut" with an entire month's worth of recipes designed to keep you interested.
✓ Discover new family favorites with six different recipes a week, making dinner an exciting food adventure.
✓ Save time, energy, and stress by letting someone else (like ME) do the planning for you each week.
DISCOVER NEW FLAVORS AND FAMILY FAVORITES
WHY YOU'LL LOVE BUDGET BYTES MEAL PLANS
HERE ARE A FEW REASONS YOU WILL BE EATING BETTER THAN ALL YOUR FRIENDS:
SAVE TIME AND MONEY

No more time wasted wondering "what's for dinner?" or giving in to expensive take out. I'll do all the planning for you!

REDUCE INGREDIENT WASTE

Buy exactly what you need and only what you need, with a plan for each item purchased. No more impulse buys!
STRESS-FREE MEAL PLANNING

One shopping trip per week means less time spent battling crazy parking lots and long check out lines.

DELICIOUS VARIETY

Get out of your "recipe rut" with four weeks of different recipes designed to keep you interested.
CHECK OUT THE FEEDBACK FROM BUDGET BYTES MEAL PLAN CUSTOMERS: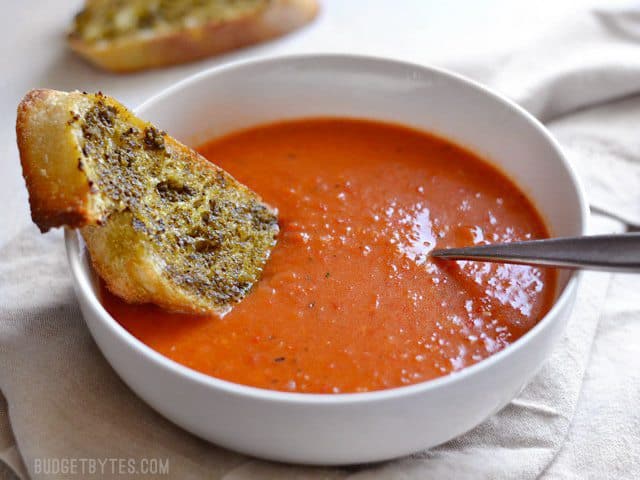 "We have been using these for about a week and a half now (only used the recipes from week one so far because we often have 'pantry nights' to use up frozen meals or just eat a pb&j 😂) but I am LOVING the recipes for week 1 so much. I love how a lot of the ingredients are seen in several meals. We spent about $40 and that was enough for 2 people to have dinner and lunch 6 times-plus some more frozen soups! You really can't beat the convenience, value, and savings."
Ashley G.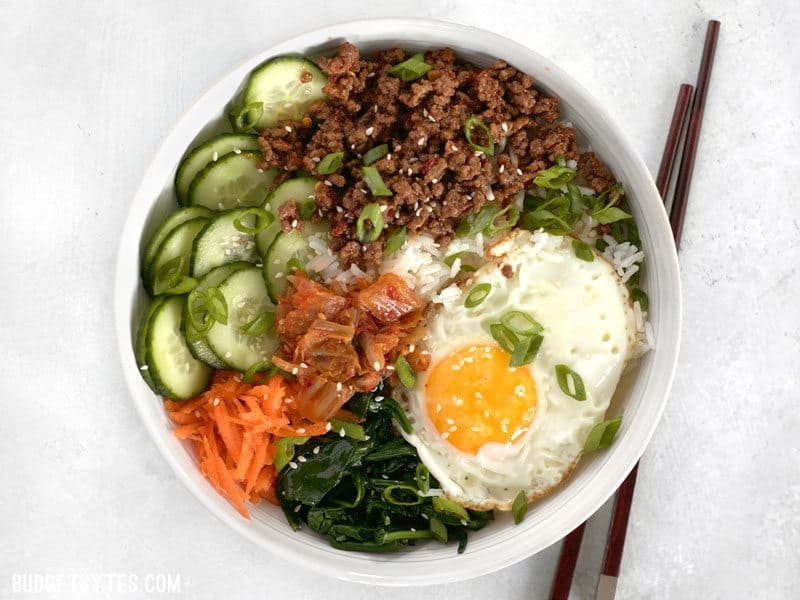 "I purchased two of your meal plans this week - One Pot and Omnivore. In my opinion, the thing that sets you apart THE MOST from other recipe bloggers is not just the inexpensive aspect, but how you teach us we can recreate food from around the world. For example, until you showed me, I did not know that I could make a Bulgogi bowl, or Okonomiyaki, or Mujaddara... until you I was spending all this money on takeout because while I know how to make pasta or chili, I didn't know how to make Korean food for example."
Dora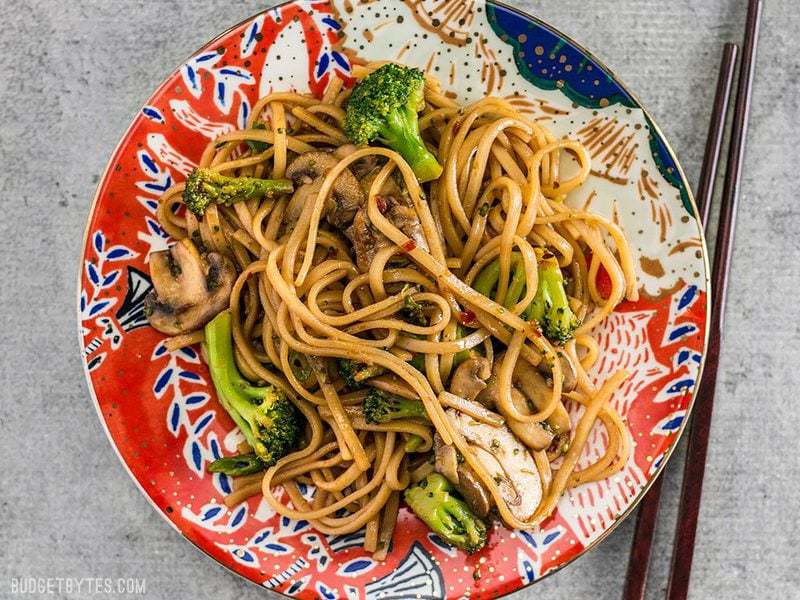 "About to finish Omnivore Week Two, and just bought groceries for Week Three. I have to say that these meal plans have simplified my life tremendously and I've really been enjoying the meals! Just saying...if Beth comes out with even more 4-week plans like these, I'll be so excited!"
Bobbie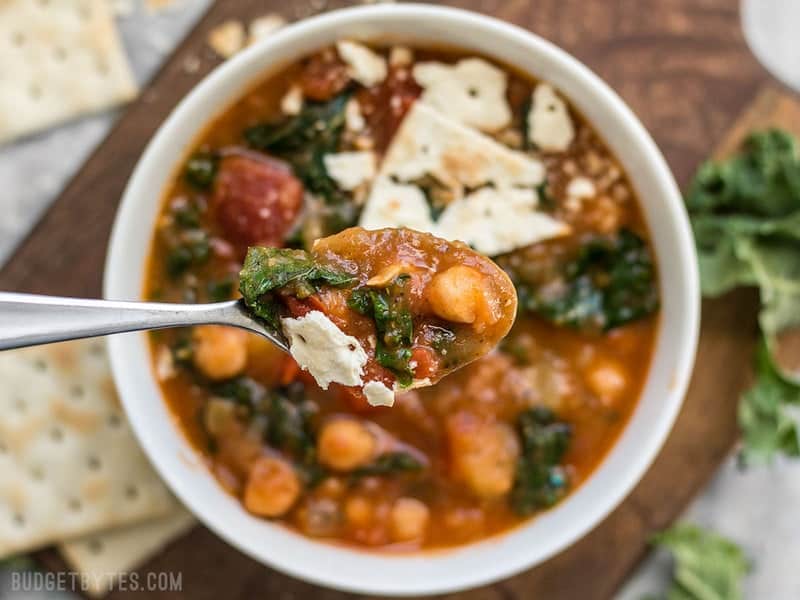 "As someone who just started this meal planning journey, I just wanna say how helpful this already is! My husband and I are both full-time broke college students with part-time jobs and almost no free time. I did all my shopping for week one of the vegetarian plan PLUS all the little extra things (dish soap, milk, etc.) and spent less than I usually do on groceries! And having all the ingredients on hand for these recipes is such a relief! I've only made the Smoky Potato Chickpea Stew so far, but it blew our minds. I'm eating leftovers for breakfast right now while I do homework. 😜 Can't wait to continue cooking!"
Jessica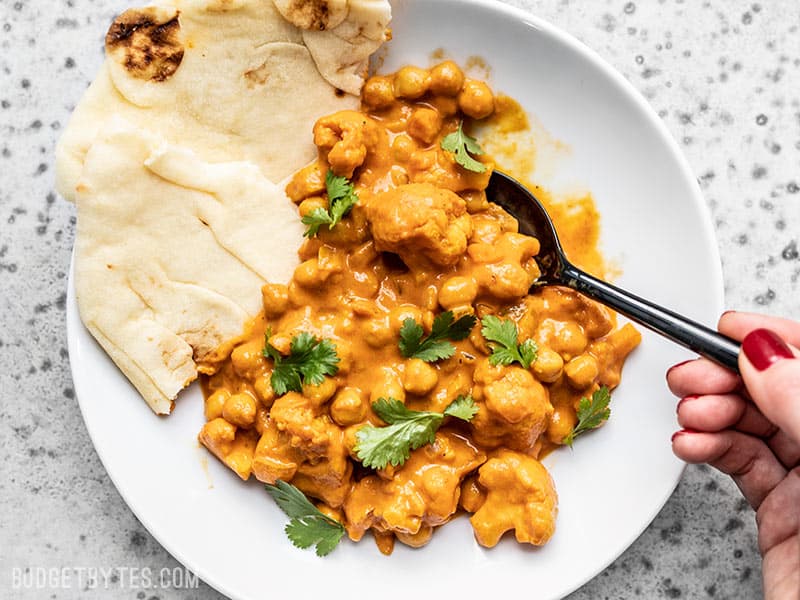 "I finally have a full month's data for comparison from mint.com of what I spent on food/restaurants/fast food in October 2019 (after discovering the budgetbytes website sometime in September, I think). The results were pretty amazing! I average about 350 to 400 dollars a month on groceries here in a small town in Canada for myself (feeding the occasional guest or dinner party). That's remained pretty constant between last June and now (though I now consistently "donate" a serving or two of what I've made to my overworked sister) BUT I've gone from spending somewhere between 200-300 ADDITIONAL dollars on fast food and restaurants (take-out) ... mostly when I didn't manage to make and bring my own lunch for work or was too exhausted to "decide" what to make and go to the grocery store... to basically NOTHING (2.50 for coffee with a friend) in October!! I've SAVED 200-300 dollars in a month without really noticing it or feeling like life was lacking. And that's NOT INCLUDING the fact that I had to buy all kinds of cooking staples (soya sauce, sesame oil, spices, vinegars, etc) and meal prep containers to stock my pantry in October! INCREDIBLE!!! I feel like a boss - I'm spending less and eating more/better, and I think I've even started losing weight to boot!"
Catherine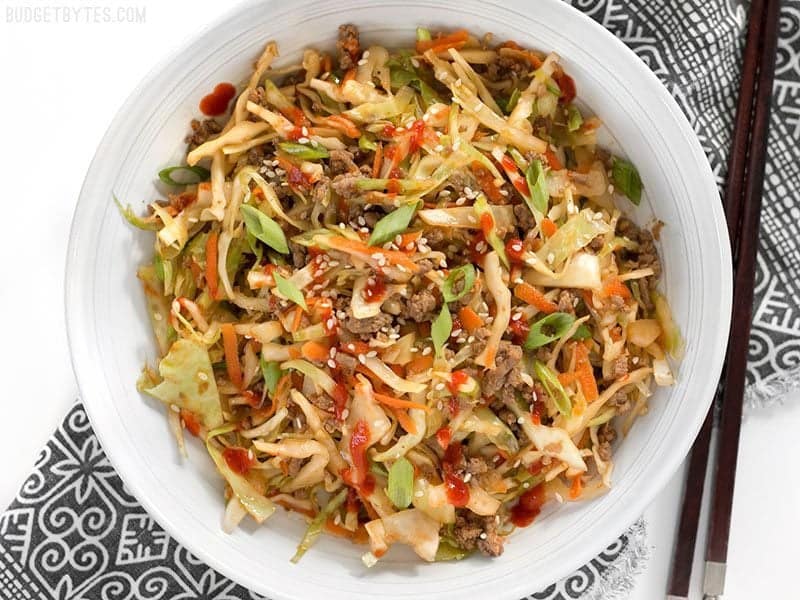 "Finished week 1 of the one-pot plan, and every meal was a hit with the family! Took a break tonight from the plan, whipped up some Beef and Cabbage Stir-Fry, a longtime favorite in our house. I've been cooking Budget Bytes recipes for years, and refer my friends to the site! These meal plans are great, because I'm trying recipes I would not select myself. AND I get a break from planning - it's done for me! Thanks Beth and crew for all you do to help me keep my busy, hungry family fed!"
Debby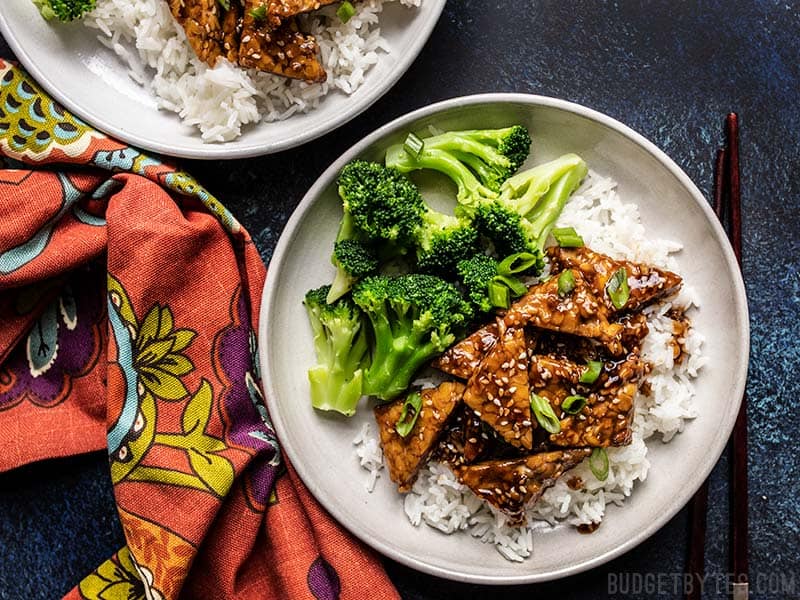 "My wife said she loves that the shopping list has which day of the week things are for because it's easy to just get the items for a few days for the week and not the full week's recipes."
Russ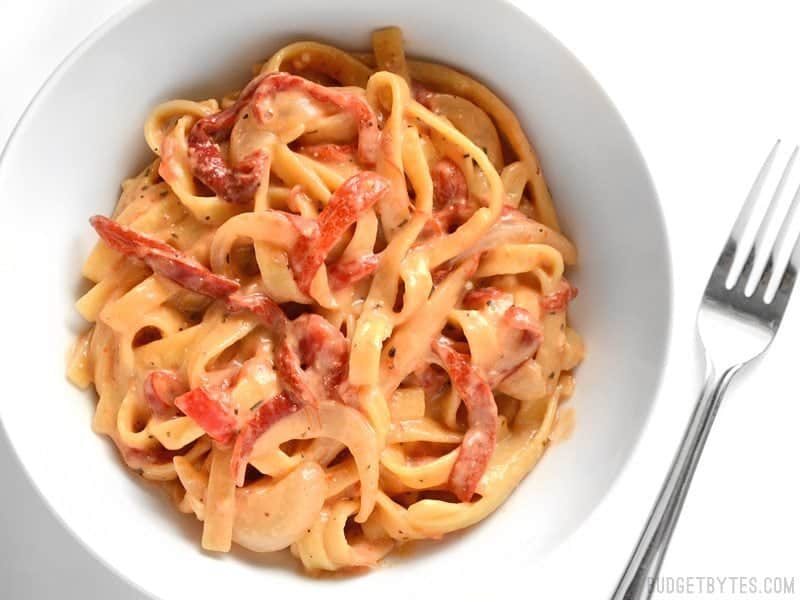 "I was amazed when I bought my first week's worth of stuff, plus some usual things like milk, cereal, dog food, ice cream, etc.... and it was under $100. 😍"
Annette
OTHER QUESTIONS? EMAIL US AT SUPPORT@BUDGETBYTES.COM
Each meal is approximately 4-6 servings, with a few freezer-friendly soups and stews serving even more. These plans work great for small families or couples who like leftovers.
Yes these meal plans are designed to take the work out of dinner planning, while leaving flexibility for you to choose your own breakfast and lunch. Many people end up having leftovers available that can double as lunches for the next day.
Cost will vary depending on your location, if you have a well stocked pantry, and other items you may need to purchase. However we've had some users report their weekly grocery bills using our meal plans be from $60-75 dollars. That's only $12.50 per meal with four (or more) servings.
You must purchase a Budget Bytes Meal Plan in order to gain access to our Facebook group. We will then verify your purchase, and approve you into the group.
You can simply log in to your Budget Bytes account here to update your email address. Or you can always email us at support@budgetbytes.com and we'll gladly help you.
Yes! We're working hard behind the scenes to create even more meal plans for you and your dietary needs.
While there are no specific meal plans currently for gluten free and dairy free, our plans are very adaptable. You can peruse the recipes included in each plan before buying and determine what you can swap or omit for your dietary needs.
The R stands for Thursday.
Yes! Included in all of the meal plans are freezer friendly tips and suggestions for leftovers. As well as how to keep leftover ingredients for use later in the week.
About Me
As a food lover and a number cruncher I've decided that cooking on a budget shouldn't mean canned beans and ramen noodles night after night. Join me for delicious recipes designed for small budgets. (more)
FOLLOW ME: